How to Publish Drawings:


3 Art Publications to Apply To




Have you ever wondered how to publish drawings in a prominent book or magazine? Having your drawings published is an excellent way to expose your artwork to new audiences, make connections with new organizations, add to your CV, and even win some prize money!
Here are three excellent art publications to submit your drawings to:


---



How to Publish Drawings:

in Books and Exhibitions-in-Print



1. The Manifest International Drawing Annual


The Manifest International Drawing Annual is a peer-juried exhibition-in-print of recent contemporary drawing, published by the non-profit Manifest Press in Cincinnati, Ohio.
This unique book investigates the question, "What is drawing?" and welcomes various drawing styles, from the most academic and representational to the most abstract and experimental.
The INDA is a beautiful, full color, 10" x 9" publication that includes well over 100 works on average. It has been awarded silver and bronze medals from the Independent Publishers Association in NYC (for which other major arts institutions such as the Whitney Museum and Metropolitan Museum of Art have competed.) In addition to possibly being published in the award-winning publication, cash prizes are awarded for the drawings that place first, second and third.

Deadline: December 31, annually.
Accepted media: Completely open!
To learn more about the International Drawing Annual, view previous issues online and submit your drawings visit: http://www.manifestgallery.org/nda/

---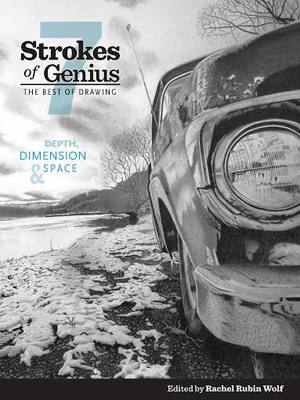 Published by North Light Books, Strokes of Genius is a beautiful hardcover book featuring works of contemporary representational drawing. The book has a new theme every year, such as "Depth, Dimension and Space", "Exploring Line", "Design and Composition", and "Expressive Texture".
From quick contour sketches to carefully rendered drawings, Strokes of Genius aims to showcase the best of representational contemporary drawing in a variety of styles and subjects.

Deadline: Check the Artists Network website for the next competition!
Accepted media: Any dry medium that would traditionally be considered drawing. What does this mean? Pencil, charcoal, pen and ink, conte crayon, silverpoint, colored pencil, pastel and potentially even paint, if it is used in a linear or sketchy way.


Visit the Artists' Network for the complete information and entry form:
https://www.artistsnetwork.com/art-competitions/strokes/


---


How to Publish Drawings:

in Art Magazine Competitions




3. The Artist's Magazine Annual Art Competition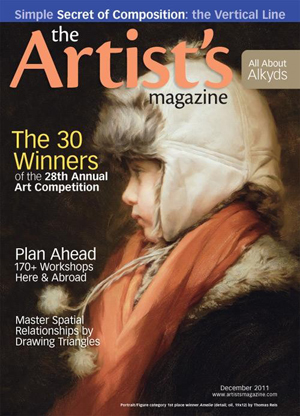 Chances are that you have seen and flipped through The Artist's Magazine at your local bookstore! Full of informative articles about painting and drawing, the magazine aims to teach readers the fundamentals of art making, present painting and drawing techniques, answer technical questions and offer business advice.
Though this competition is not drawing-specific, you can certainly enter your drawings in the Annual Art Competition for a chance to be published in The Artist's Magazine (they have cash prizes, too!)


Deadline: Check the Artists Network website for the next competition!
Accepted Media: The various categories of this competition accept subject matter, such as Portrait/Figure, Still Life/Interior, Landscape, Abstract/Experimental, and Animal/Wildlife.

For complete information about the All-Media Art Competition, visit the competition webpage at:
https://www.artistsnetwork.com/art-competitions/artists-magazine-annual/
---

Please note …
These magazines, competitions and books on drawing are not affiliated with The Drawing Source. This page is meant to inform readers of potential opportunities. Before submitting artwork to any of these publications, please be sure to read the rules and guidelines on their respective websites carefully. While I will do my best to keep this page up to date, it is the information on the websites of the publications/magazines that should be considered accurate and followed carefully.


---

If you enjoyed this page on how to publish drawings, you may also be interested in:

Related Pages:

Step by Step Drawing Tutorials
Generate Unlimited Drawing Ideas with these 5 Exercises
---
---
---

Return to the Homepage from How to Publish Drawings