Alphonse Mucha Drawings


Alphonse Mucha drawings are ones that you will revisit time and time again. They may become what you look at when you need an artistic pick-me-up. You may eventually find prints of them in every room of your house... (Okay, maybe not.)

They are rich in ideas, intense drama, compelling compositions and technical mastery. There is something new to notice every time you observe them.

Sadly, Alphonse Mucha drawings are some of his least known works of art.
Most often he is remembered as one of the most influential artists in the field of decorative arts and the Art Nouveau movement. But this does not come close to covering the extent of Mucha's artistic contributions.
In the latter half of his career, he distanced himself from the decorative style he pioneered to devote himself to painting the Slav Epic: a series of twenty monumental paintings depicting the history of the Slavic people. The above drawing is a study for one of the Slav Epic paintings.

And, of course, there are Mucha's drawings.
---


Alphonse Mucha Drawings: Le Pater


"Le Pater" is a visual and written commentary on the Pater Noster. Each drawing represents one or two lines of the prayer, and is paired with Mucha's own writings (which can be found in this book).

The series was created from a perspective that combined Catholicism and occultism, which Mucha was greatly influenced by.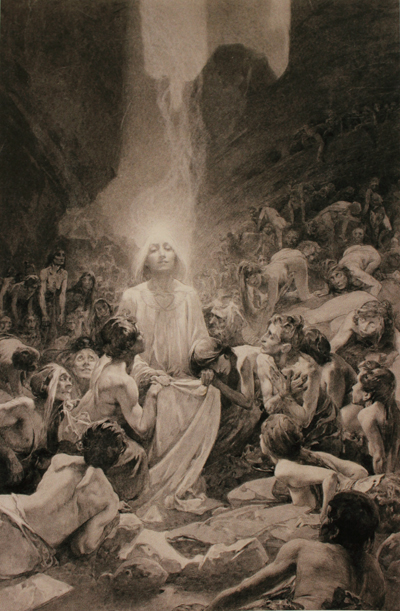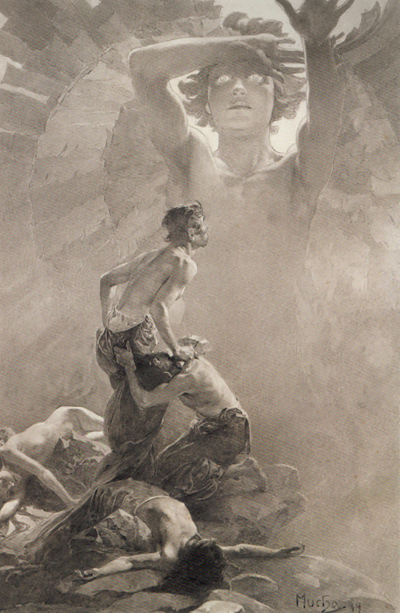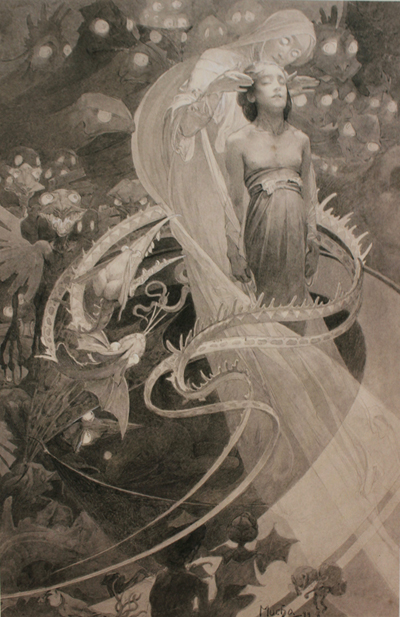 The "Documents Decoratifs" Drawings


Mucha also created the "documents decoratifs": 72 plates of drawings meant for creatives such as painters, interior decorators and cratfspeople to study from and utilize.

Because they were intended to be used by such a broad audience, he incorporated various aspects of craft and design into the drawings, including landscape studies, ornamental friezes, figurative designs, furniture, botanical sketches and more.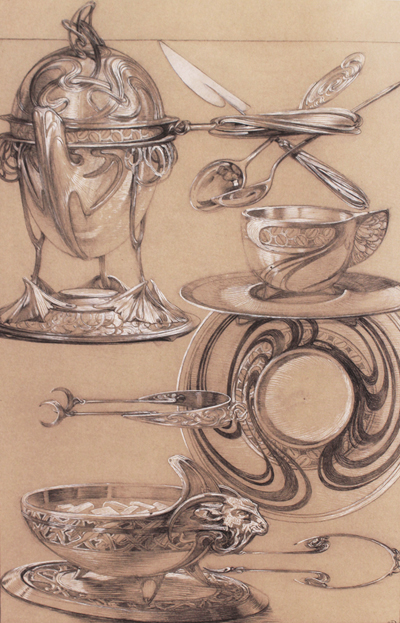 Notice that these were drawn almost entirely with line:

Even the reflection in the glass (which looks so believable from afar), is, upon closer examination, a beautifully designed pattern of lines.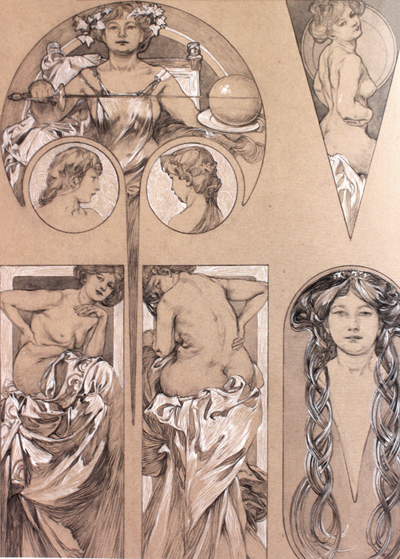 Mucha's Pastel Drawings


While a few of Mucha's pastel works are reminiscent of his Art Nouveau sensibilities, most are much more sombre, often dealing with themes of death and loss. He tended to use a subdued palette in the pastel pieces, accentuated with violent accents of deep red.

Study for Memories of Ivancice
The Abyss
---


More Mucha Resources


If you absolutely must have more Mucha (as I always do), then I highly recommend my favorite book on this phenomenal artist.

It includes wonderful images of the entire Le Pater series, including the preliminary sketches (which actually look very different than the final drawings and could, in my opinion, be an entirely separate series).

The book also boasts excellent, detailed reproductions of several of the Documents decoratifs, from which you can study Muchas intricate line work (or even draw copies!).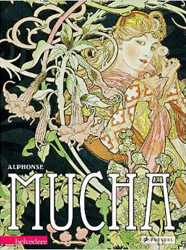 In addition, you will find numerous pastel drawings, the Slav Epic paintings, and some of Muchas photography. The book can be purchased on Amazon. To view more of Mucha's artwork online, visit The Mucha Foundation Gallery.



---
---
---

If you enjoyed this page on Alphonse Mucha Drawings, you may also be interested in:

Related Pages:
100 Self-Portrait Drawings from 1484 to Today
5 Lessons to Learn from Leonardo da Vinci Drawings
The Drawings of Kathe Kollwitz
---

Return to Inspirational Drawings from Alphonse Mucha Drawings